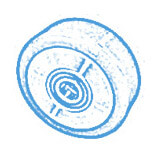 We specialize in providing industry-leading solutions to meet your most challenging problems, and we back this capability with outstanding customer service and competitive pricing.
WHEELS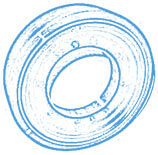 ROLLERS
MSO is capable of manufacturing many different styles of drive rollers and idler rollers, including: concave rollers, convex rollers, hubbed rollers, straight rollers, v-groove rollers, and more.
BEARINGS In addition to stock bearings, MSO can manufacture custom covered bearings based on your own design.  Custom covered bearings can be produced with either flush or extended sidewalls and are able to be shipped quickly.
K-Disc® Pig

Knapp's patented single-piece, bi-directional scraping pipeline pig.  The K-Disc is unmatched for paraffin scraping ability.

---

Ultra-Cast

®

Pig

Solid cast urethane combination cup and disc scraping pipeline pig.

---

Nova System Pig

Knapp's solid cast urethane pipeline pig with replaceable wear parts.

---

Nova-Cast® Pig

Knapp's patented one-piece, solid cast urethane pipeline pig designed for pipeline-specific applications.

---

Ultra-Flex® Pig

Solid cast urethane cup and disc fluid control pipeline pig.

---




Solid Cast Urethane Disc Pig

Knapp, the original manufacturer of the solid cast urethane disc pig, has been producing this dependable line of bi-directional solid cast pipeline pigs for more than 25 years.

---

Polly Tri-Cup® Pig

Knapp's solid cast urethane three-cup batching, cleaning and fluid control pipeline pig.

---